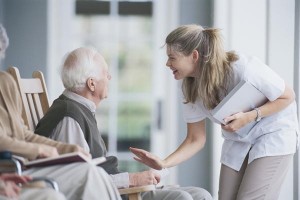 Assisted living facilities in Dallas are an excellent housing option for older adults who want to maintain their independence but also need help with daily tasks such as dressing, bathing, and eating. Managing medication and transportation to medical appointment is also an important part of an assisted living arrangement. People in assisted living arrangements do not require intensive medical care, just some assistance to live safely and happily.
The list of facilities below is a sampling of the assisted living facilities in Dallas. Fill the out the form to the right for more information on any of these options.
At Senior Living Specialists, we are a FREE service dedicated to helping families find the facility that best suits their specific needs. We are a non-biased third party service compensated by referral fees from facilities.
---
Caruth Haven Court Assisted Living
5585 Caruth Haven Lane
Dallas TX 75225
Specialties: Assisted Living, Alzheimer's Care, Dementia Care, Memory Care
---
Emeritus at Lake Highlands Assisted Living
9715 Plano Road
Dallas TX 75238
Specialties: Assisted Living, Alzheimer's Care, Dementia Care, Memory Care
---
Emeritus at Preston Assisted Living
12400 Preston Road
Dallas TX 75230
Specialties: Alzheimer's Care, Dementia Care, Memory Care
---
Parson's House Senior Living
4205 West Northwest Hwy
Dallas TX 75220
Specialties: Assisted Living, Alzheimer's Care, Dementia Care, Memory Care
---
Sunrise Senior Living
13001 Hillcrest Road
Dallas TX 75240
Specialties: Assisted Living, Alzheimer's Care, Dementia Care, Memory Care
---
Acadia Assisted Living Dallas
3344 Forest Lane
Dallas TX 75234
Specialty: Assisted Living