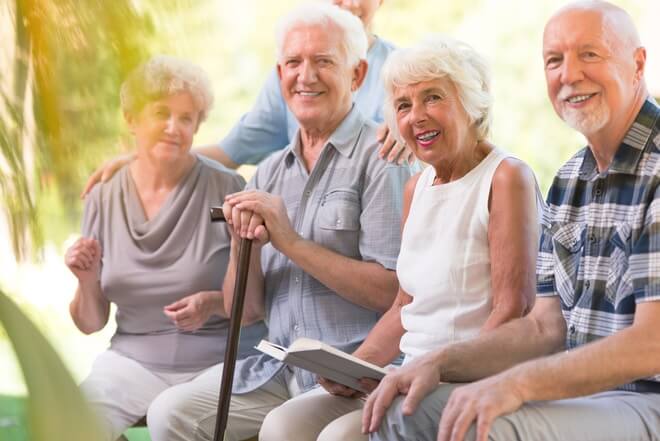 Making the decision to place a family member in an assisted living facility is never easy. The process often comes with worry, guilt, and concerns about (a) how your loved one is going to feel about it, and (b) the associated costs.
Yet, there are many reasons why assisted living makes sense: If you live far away from a loved one, if you have a demanding job that requires long hours at the office or traveling, if you have kids or a myriad other life responsibilities, it can become overwhelming or sometimes downright impossible to attend to your senior family member as often as they need. This is especially the case if they require multiple visits during the day or constant monitoring due to health concerns.
What to Look for in a Good Assisted Living Facility or Nursing Home
The first thing to keep in mind is that not all assisted living facilities are created equal. Some of them allow for their residents to maintain a level of independence, while others provide trained personnel who are able to help your loved one with the activities of daily living (such as personal hygiene, getting dressed, and meal preparation) or even with medications and therapy.
Once you have determined which type of assisted living environment would work best for your family, it's time for research. After all, you want to make sure that your family member is comfortable and well cared for.
10 Things You Need to Do to Find a Good Assisted Living Facility
When checking into facilities, you need to do a lot more than call and talk with employees. Administrators and management want you to choose their facility. While you do need to communicate with them to get information as to services and costs, you should also see to the following:
1. Make a list of facilities
You can start your search by visiting the Texas Health and Human Services website. Narrow the list down by location. Even if you have a busy schedule, you'll want to be able to visit your family member regularly and get involved in their new community. Also, keep in mind the facilities' proximity to your family's medical providers. If your loved one is relatively independent, look for communities that are close to places of entertainment they enjoy: shopping, golfing, parks, restaurants, or movie theaters.
2. Consider the costs
Medicare doesn't cover assisted living facilities. Medicaid does; however, benefits are only available for people who meet certain income requirements. The Department of Veterans Affairs can also offer assistance. While there are other types of programs that may fund some of the costs, the fact remains that assisted living can be costly and you may have to pay for some of these expenses out of pocket. Always ask how services are billed and what happens if you run out of resources to pay for them.
3. Visit every facility you're considering
When you do this, always bring your loved one as they're the one who may be living there in the near future. Treat them with the respect and dignity they deserve by letting them have a say in the matter. In addition to going for your scheduled appointment, drop in unannounced during the day and during the evening to check the environment and to observe whether residents seem pleased or distressed to be there. While you're there, look at the state of the facilities: Is everything clean? Is anything broken or seemingly a hazard? How is the security?
4. Ask many questions
In addition to inquiring about specific ways they can help your family member, ask about background check requirements for staff, how many units are located within the community, how many residents live there, can residents have pets, is there a curfew, ask about their menus and whether they make modifications for dietary preferences or restrictions. Have your loved one taste the food. Ask if any of the rooms are private, and if there's care for people suffering from Dementia/Alzheimer's/mobility issues/diabetes/insert your family member's condition. AARP has an exhaustive list of questions to help you navigate this process.
5. Talk to residents
Ask them how long they've been living in the community, whether they enjoy it, whether they have any complaints, and who their favorite staff members are. While speaking with them, take notice if they are showered and well groomed.
6. Look for ways the environment will make your loved one's daily routines easier
Do showers have grab bars or wheelchair access? Is there assistance with housekeeping? Is there transportation to medical appointments?
7. Think about the amenities
Look for communities that feature activities, such as art classes, book clubs, movie nights, group exercise classes, and an area for entertaining.
8. Review the contract carefully
Don't sign a contract on the same day you visit the facility. Take it home with you. Read the entire document and make a list of questions as you think of them. If there are any terms you don't understand, go back to the facility and ask for clarification. If it still doesn't make sense or makes you feel uneasy, have an attorney review the contract.
9. Read reviews
In addition to stories from residents, you want to hear what family members have to say about their experience. The Consumer Affairs website compares reviews based on assisted living features, facility types, residents, and expert reviews. There are also resources that offer information about resident turnover and health inspections.
10. Learn about the rights of residents
The Texas Office of Long-Care Ombudsman provides information about residents' rights and may be an additional resource to find out whether a facility you're considering has had any issues regarding elder care.
If You Have Questions about Transitioning to an Assisted Senior Living facility, Let Us Help You
At Senior Living Specialists, we provide assistance for the senior citizen community in Dallas. Whether it's home care or assisted living, we have all the compassion and experience necessary to provide healthcare and support to your loved one.
Call us at (214) 929-5055 or fill out our online contact form.

At some point in many families' lives, they'll have to address a momentous elephant in the room: Whether it's time to move a loved one to a senior housing community. It's often a difficult subject because of the popular belief that if you truly love someone, just bring them to live with you. And while that's certainly an option for some people, it's not practical for others.
The reality is that full-time jobs, raising children, and other responsibilities can sometimes make it impossible to provide a loved one with assisted care around the clock. Therefore, despite how difficult the decision may be, sometimes, the best course of action is to look into moving to an assisted living facility. If your loved one is used to being an independent individual, the decision may be overwhelming for them as well as for other members of the family.
What is Assisted Living?
An assisted living community is one where residents require custodial care. For example, someone who needs assistance with their activities of daily living, such as with personal hygiene, meal preparation, or with mobility. It's also a good alternative for people who are starting to show signs of dementia and therefore would not be safe living at home by themselves.
How to Talk to Elders About Assisted Living?
Talking about assisted living can be a very sensitive issue. The last thing you want is to make your loved one feel like they're a burden, or to serve as a reminder that they can no longer continue their independent lives.
1. Always include them in the conversation. Think about how you would feel if your entire family were talking about an issue that concerns you, but they leave you out of the discussions. No matter how advanced their age, include your loved one in the conversation about assisted living. Share your concerns and listen to their responses. Listen with the intent to understand how they're feeling and don't just wait for your turn to reply.
2. Be fully informed about the available options. It's one thing to bring up the subject of assisted living as a general idea. It's a completely different landscape if you have researched facilities in your area and the different options that are available to your family member. Are there places with other residents with somewhat independent lives? Do some of them include activities you know your loved one would enjoy? What are the visiting hours? How often can you go see them?
3. Mention the benefits they'll receive. While having an aging family member move into an assisted living facility may make your life easier, focus on the fact that the transition is about them. How will the move make their life better? For example, if they often forget to take their medication, or have fallen several times while taking a shower, or forget to turn off the stove, talk about the advantages of having someone around the clock who can take away some of their daily worries.
What's the Difference Between Assisted Living vs. Nursing Homes vs. Home Care?
Not all assisted living facilities are created equal. The main difference across the board is the level of independence of the residents. Nursing homes (and skilled nursing facilities) have trained personnel with medical experience.
Assisted living facilities can help aging parents with personal hygiene, grooming assistance, housekeeping, meal preparation, laundry, and transportation. This is called custodial care or non-medical care.
Nursing homes delve more into the medical assistance realm, offering services ranging from administering medication to complex medical care (such as tube feedings, wound dressing, intravenous injections, rehabilitation after surgery or stroke, as well as physical, occupational, or speech therapy).
Home care is designed for people who do decide to remain in their home, yet have a professional caregiver come to their household on a regular basis to assist with companionship, medications, meal prep, and transportation to medical appointments.
How to Make the Transition Easier
While the decision to move to an assisted living facility or nursing home is rarely an easy one, there are things you can do to make the transition easier for your aging loved one:
1. Visit the facility with your loved one before moving. One of the scariest things about any kind of change is not knowing what to expect. As part of including them in the conversation, visit the facilities with the aging family member so that (a) they can decide whether they would feel comfortable there, and (b) so that they can become familiarized with the place before moving in. Go several times so that you can become used to the place and meet people who live there.
2. Talk with residents. There's only so much a brochure can tell you. The best people to tell you whether the facilities and personnel make their lives easier are residents themselves. It'll break the ice to make friends, and it'll give your loved one and your family firsthand accounts of residents' experiences.
3. Make it look like home. While an assisted living facility or nursing home will never be just like home, bring as many decorations and items of sentimental value to your loved one. Decorate and personalize their living space so that it doesn't feel like an institution. Place pictures of loved ones and art made my grandkids in visible places. Bring their favorite books, throw pillows, slippers, and bedding.
4. Get involved. No matter how much you make their new home look like their old home, a common fear in assisted living facilities and nursing home is being forgotten. In addition to prioritizing regular visits to your loved one, look at the facility's schedule for any activities that involve residents' family member (such as picnics, arts and crafts, karaoke, fitness activities, barbecues, etc.) and make it a point to go to them as often as possible.
If You Have Questions About Transitioning to an Assisted Living Facility, Let us Help You.
At Senior Living Specialists, we provide assistance for the senior citizen community in Dallas. Whether it's home care or assisted living, we have all the support and experience necessary to provide healthcare and support to your loved one.
Call us at (214) 929-5055 or fill out our online contact form.

There are few things in life that are scarier than hearing that you or a loved one has a heart condition. Things can get even more overwhelming if you keep hearing medical terms that go right over your head.
In hopes of helping you better navigate such a sensitive situation, below is an overview of what is congestive heart failure, what causes it, how to recognize early signs, and what you can do to treat it.
What is Congestive Heart Failure?
Congestive heart failure is a serious condition in which a person's heart fails to pump blood properly. As a result, blood is backed into the patient's lungs, abdomen, liver, and other organs. It's a progressive illness and can be life-threatening.
There is no cure for congestive heart failure.
Causes
Congestive Heart Failure is often caused by underlying cardiovascular conditions, such as coronary artery disease, hypertension, heart valve disease, myocarditis, congenital heart defects, or heart attack.
Early Warning Signs
While there are many people who ignore mild symptoms of illness, it's important to pay close attention to early warning signs of congestive heart failure. These include:
– Shortness of breath
– A reduced ability to do physical activity
– Fluid retention
– Increased need to urinate
– A persistent cough
– Lack of appetite
– Swelling of the abdomen
– Fatigue
Symptoms of Congestive Heart Failure
Before listing signs, it's crucial to note that a person may not feel any symptoms during the early stages of congestive heart failure. This is why it's essential to get yearly checkups, especially if you have a history of heart disease. That said, once the condition starts advancing, a patient may notice the following symptoms:
– Irregular heartbeat
– Swelling of feet, ankles, and legs
– Shortness of breath
– Wheezing
– Chest pain that radiates throughout the torso
– A bluish tint to the skin
– Blood in phlegm
– Fainting
Stages of Congestive Heart Failure
There are four stages of congestive heart failure.
1. Class I. During this stage, the person won't experience any symptoms. If diagnosed early, it can be managed through lifestyle modifications.
2. Class II. The person may feel comfortable and healthy while at rest. However, physical activity will cause shortness of breath, a faster heart rate, and fatigue. At this stage, it can still be managed through lifestyle changes and medication.
3. Class III. During the Class III stage, even mild exercise will cause the patient to feel fatigued and out of breath.
4. Class IV. Symptoms including shortness of breath, a fast heart rate, and fatigue are present even when the patient is at rest. At this point, the medical provider will offer palliative care.
Diagnosis and Treatment
If your primary care physician suspects that you may have congestive heart failure, she or he will refer you to a cardiologist for further testing. These may include an electrocardiogram, an MRI, an echocardiogram, and blood tests.
Once diagnosed, the doctor will prescribe different types of medication, depending on the stage of the condition. Some of them work to open up narrowed blood vessels or reduce blood pressure. The medical provider may also recommend diuretics to help remove excess fluid from the body.
As a last resort, a cardiologist may recommend surgery to repair blocked arteries or heart valves.
Complications
When a person's heart is not working efficiently, there's a ripple effect on the rest of the body. This is because all of the organs need adequate blood flow and oxygen to keep working. Some of the most common complications from congestive heart failure include kidney and liver damage. It can also cause additional health conditions, such as arrhythmia.
Risk Factors
Risk factors for developing congestive heart failure include:
1. High blood pressure. When a person has high blood pressure, their heart has to work harder. If it has to work harder, it can become enlarged, which makes it work less efficiently.
2. Diabetes. This is because the condition increases a person's risk of high blood pressure. In addition, some diabetes medications can increase the risk of heart failure.
3. Obesity. People who are obese have a significantly higher likelihood of developing cardiovascular diseases.
4. Sleep apnea. Sleep apnea occurs when a person stops breathing for several seconds while sleeping. They then wake themselves up as they gasp for air. The lack of oxygen increases the likelihood of high blood pressure and heart failure.
5. Heart attacks. Once a person experiences a heart attack, the heart muscles may be weakened, which impairs its ability to pump blood properly.
6. Alcoholism. Excessive consumption of alcohol increases the risk of high blood pressure as well as several heart conditions, including congestive heart failure.
7. Smoking. It's not news to say that smoking is bad for you. Not only does it cause cancer, it also makes your heart work much harder. As if that weren't enough, tobacco use also causes fatty build ups in the arteries. As a result, the heart muscles are weakened.
Prevention
Preventing heart failure involves several lifestyle factors:
– Reduce stress
– Get enough sleep
– Maintain a healthy weight
– Exercise regularly
– Quit smoking
– Eat plant-based whole foods and lean proteins
– Limit alcohol intake
If You or a Family Member is Living With Heart Disease, Contact Senior Living Specialists in Dallas
At Senior Living Specialists, we provide assistance for the senior citizen community in Dallas. Whether it's home care or assisted living, we have all the support and experience necessary to provide healthcare and support to your loved one.
Call us at (214) 929-5055 or fill out our online contact form.