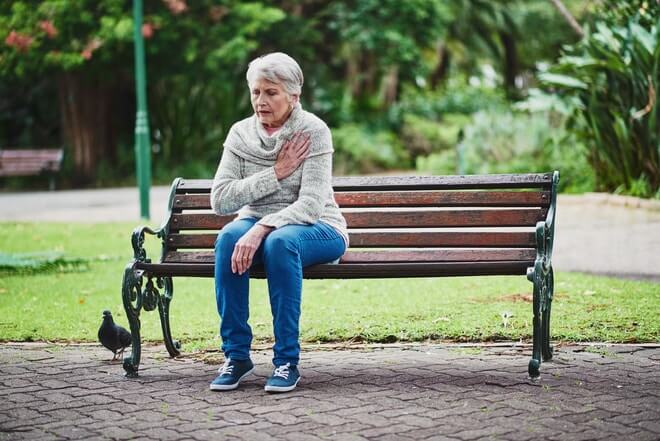 While the news may be full of stories of accidents, crime scenes, mass shootings, and whatever shocking story of the day may be, the fact remains that heart disease is the number one killer in our country.
To be more specific, heart disease claims 1 out of every 4 deaths.
Primary Risk Factors of Heart Disease
If you want to avoid being a statistic, it helps to be proactive. While there are things that may be out of your hands (such as having a family history), there are things you can control.
1. Diet
The standard diet in American leaves much to be desired. It's full of saturated fats and enough sodium to increase blood pressure. Both factors pave the road to heart disease.
Switching to a healthier way of eating doesn't mean you have to go hungry. You can eat the same amount of calories (if that's what your body needs), but opt for nutrient-dense foods, such as whole foods: Fruits, leafy greens, brown rice, quinoa, or pasta, legumes, beans, lentils, oatmeal, lean meats, nuts, and even dark chocolate. Always read the ingredients list. If it has stuff you can't pronounce, pass on it. If it's individually wrapped, pass on it (or at the very least, reduce your consumption). Fruit is portable. Also, be aware of the fact that just because you have a sweet tooth now, it doesn't mean you're doomed. It takes several weeks for your taste buds to prefer other types of foods. As they change, so will your cravings.
2. Sedentary Lifestyle
Being a couch potato can be comfortable. However, if you don't also incorporate regular exercise into your routine, you're at risk of developing blood clots, high blood pressure, and heart disease. However, you don't have to become a marathon runner to preserve your health. There are plenty of exercises that are low-impact and can be enjoyable, such as going out for a daily walk, swimming, dancing, or even setting time aside to play with your dogs on a regular basis.
3. Obesity
Let's look at the facts: Being obese increases your chances of getting Type 2 diabetes, cancer, and heart disease. Yet, almost half of the population in the United States is either overweight or obese. In fact, you don't even have to be morbidly obese for weight to affect your heart health: A waist circumference of 35 inches or more for women or 40 inches or more for men can put you at risk.
Diet and exercise are obvious elements to maintain a healthy weight. But you have to find something you like, so that it can become sustainable and you'll stick with it long-term. If all this is new to you, or if the scale reflects a high number, you may feel overwhelmed and not know where to start. If possible, look for ways to create a support group to help you along the way: whether it's friends, family, online forum, or a program, embarking on this journey with people who can empathize and hold you accountable can provide substantial help.
4. Stress
Stress, by itself, is enough to increase high blood pressure, production of adrenaline and cortisol, increase your heart rate, and affect your nervous system. In the aggregate, it's enough to send your health into a tailspin. To add insult to injury, stressful situations often also lead to unhealthy behaviors, such as smoking, overeating, or deciding that you simply don't have time to work out. Keep it going long enough, and it can also lead to anxiety or depression. See a pattern here? Any way you look at it, there's harm coming from every direction.
To reduce stress levels, you have to be mindful of what's causing it and be proactive in reducing it. Set limits at work. Don't answer emails after a certain hour if at all possible. Say no to social engagements if you really can't (or don't want to) go. Exercise. Meditate. Find time alone and cry it out. If you need professional help, seek it. Find time to do things you enjoy doing it and don't let anyone interrupt you while doing it. If you have small kids, arrange for child care or incorporate them into the activity (if it's something they would enjoy too).
5. Smoking
In addition to the fact that smoking makes your chances of getting lung cancer go through the roof, it turns out that it also doubles your chances of having a heart attack. In addition, you're increasing the risk of your loved ones of getting heart disease by smoking around them.
While quitting is not easy, you can do it successfully. The American Lung Association has plenty of resources to help you get started.
6. Excessive Consumption of Alcohol
While enjoying a drink or two every now and then can be enjoyable, drinking too much alcohol comes with a long list of risks that are never worth it: Alcoholism, liver disease, high blood pressure, and heart disease. If you can't quit on your own, seek help. Some health insurance companies cover rehabilitation, while some states offer government-funded treatment options.
Secondary Risk Factors of Heart Disease
There are other factors that also influence the likelihood of developing heart disease, such as:
Family history. If other family members have had heart disease, your risk may also be higher. This is when it's even more important to be mindful of lifestyle factors.
Age. As you get older, blood vessels become less flexible, and if you haven't maintained a healthy lifestyle, they may also be plagued with fatty deposits. Both factors obstruct blood flow, which ultimately affect your heart.
Gender. While heart disease affects both men and women equally, women have to be vigilant about the fact that they can have less recognizable symptoms.
The factors above don't mean conclusively that you will get heart disease, nor are they meant to serve as a green light to disregard a healthy lifestyle.
If You or a Family Member Is Living With Heart Disease, Let Us Help You
At Senior Living Specialists, we provide assistance for the senior citizen community in Dallas. Whether it's home care or assisted living, we have all the support and experience necessary to provide healthcare and support to your loved one.
Call us at (214) 929-5055 or fill out our online contact form.